Take equal parts melody from Tom Petty, The Beatles, Third Eye Blind, and mix in the guitar styles of greats like Eddie Van Halen, Eric Clapton, Ty Tabor, and Steve Vai, and you might start to come close to describing Curt's music. A musician from the American south, Curt Granger cut his teeth on the classic bands of the 70's and 80's such as Boston, KISS, Aerosmith, Thin Lizzy, Van Halen, Journey, and King's X.
Curt Granger has been a major player in the local Birmingham Alabama music scene for 30+ years. He began his professional music career in 1984, as a founding member and guitarist of the popular circuit band Pyrate. With this gang of rockers he logged thousands and thousands of miles on the road, performing over 600 shows all across the southeast. After taking a hiatus as an active musician to earn an electronics degree, Curt formed the alternative rock band Scream Sophie in 1999.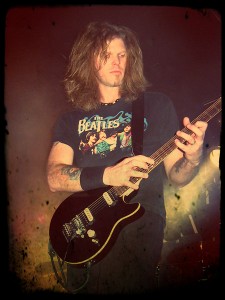 It was with Scream Sophie that he released two very well received original music CDs – "Offerings" in 2000, and "Secrets In A Jar" in 2003, and took the band on the road to perform hundreds of shows. In 2004 he worked a brief stint with the rock band Empty Fall, playing bass, writing, and producing. October 2004 found Curt forming the band Traumatide, with many subsequent shows and releasing the full-length CD "This Thing Called Life in 2005.
In 2007 Curt released the CD '420 Homegrown Avenue," a solo effort he had been working on for 3 years. He also joined forces with some of his fellow golfing pals to form Citizen Jayne, playing lead guitar, contributing backing vocals, and singing lead on a few choices numbers, as well as handling the day-to-day business activities. 2007 also saw Curt form his guitar amplifier company, Granger Amplification, where he utilized his knowledge of tube amps and his electronics background to began building and selling custom, handcrafted amplifiers worldwide. This also eventually led to his becoming entirely self-employed, when he departed AT&T in 2009 to make Granger Amplification a full-time venture, as well as his musical career.
In 2010 he performed briefly with Defiant Angel, which contained former members of Citizen Jayne, as well as forming his acoustic project,
Gringo Fife
, with bassist/vocalist Tracey Tucker.
In 2011 he joined Voodoo Jones and Mother Mercy, two local cover bands, adding many more live shows to his resume.
In 2012 Curt was involved in many different projects. In addition to performing with Neon Samurai, he began playing lead guitar with The Wildflowers, a Tom Petty tribute band, as well as reuniting with former members of Empty Fall, playing bass again briefly, with King Zen.
In 2013, Curt formed the active rock trio, Pluto's Return, continues to perform in his ongoing acoustic project, Gringo Fife, and is a respected voice in the Birmingham music community.
2014-2016 found Curt performing Pluto's Return gigs, corporate events and weddings as lead guitarist with 5 Dollar Shake (now called The Emulators), more solo acoustic, and many Gringo Fife shows.
Regarding his 2007 solo effort "420 Homegrown Avenue" album, Curt says, "That was something I've always longed to do, ever since I recorded my first overdub on an old Fostex 4-track. Not only the 'total creative control' aspect appealed to me, but the opportunity to wear multiple 'hats' and think outside the norm of how a guitar player usually thinks. I'm very fortunate that I could work on that album at home during breaks and downtown from my other projects. I'm very proud of it, to say the least."